Vote For Us! Art Studio entered into LHUDA 2014.
Vote For Us! Art Studio entered into LHUDA 2014.
Click on the following link to view our entry and to VOTE– Art Studio, Glendale.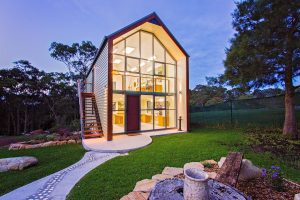 Architect designed and finished to a very high standard this small but exciting project will also be featured in Hunter Lifestyle Magazine due to be released 23rd August. Keep an eye out for this high quality magazine or check it out on line.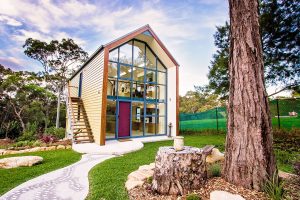 The studio was designed by Morten Pedersen and completed in March this year. Some of the stand out features of this 3-storey building include the glass facade, extraordinary lighting, galvanized steel and hardwood floating stairs, exceptional thermal properties and carefully designed custom built fitout.
The building has been specifically designed for the artist's various pursuits, including oil painting, drawing, illustration, wood carving, sewing & printing materials, costume and set design for local theatre companies.
It is a 2-storey building with a basement under.
First floor is 40m2 and incorporates the painting/visual arts precinct and is elevated to maximise the purity of light and avoid reflections from the surrounding landscape.
Ground floor is 45m2 and designed for crafts and textile works.
Basement is 22m2 and is a storage area.
The ground floor is part slab on ground and part suspended concrete slab, forming the ceiling of the basement below. The slab is insulated for thermal efficiency during the cooler months when heating may be required. The first floor is timber framed with 22mm chipboard flooring designed to be the finished surface. Wall and roof structures are a combination of heavy steel members and timber framing.
The walls are clad with bushfire compliant Scyon Linea and EasyLap FC  fixed to the structure using a 22mm cavity batten system. Proctor construction membranes have been used throughout together with high density R2.5 insulation in all 90mm walls.
The 38 degree roof is Colorbond custom Orb with stainless steel leaf-guard and colorbond fascias. There is a double insulation system within the roof structure, incorporating ProctorWrap™ HT-R, R3.0 bulk insulation, ceiling battens, and 50mm blanket. Raked plasterboard ceilings.
Feature timber elements have been incorporated both externally and internally and include the floating steel and hardwood staircase, the hardwood fascia/surround on the South elevation, and internally the solid camphor benchtops, archway and shelving.
Extraordinary consideration was given to both natural and artificial lighting for the project. The expanse of glass in the South elevation provides even and indirect natural light for the studio during daylight hours. The other windows are relatively small to avoid direct sunlight which can cause glare and reflections. For night work there are 10 commercial grade fluorescent flight fittings in the main studio area, carefully placed to give cross lighting, reduce shadowing and provide the required lux level of at least 500/m2. All fittings include special tubes which provide more than 80 CRI, and Colour temperature of 5000k.
Thermal performance of the building was also a high priority for the client, and carefully planned. Together with the extensive insulation described above, all windows are double glazed including the curtain wall in the South elevation. Cross ventilation is incorporated from the ground floor, through the void area immediately behind the curtain wall, and up to the operable Velux sky lights in the roof. This is particularly important in the summer months for naturally cooling the building, but also provides excellent air flow all year round when the artist is working with products that are odorous such as oil based paints.
contact us to discuss your new home today. let's talk!